The world as we knew it changed overnight with the spread of COVID-19. We're now about as far as we can get from business as usual.
People are hurting and businesses are suffering. Only essential businesses are operating as normal (if you can use that word). The rest have either cut back operations, mandated remote working or both.
None of the old rules apply in this brave new world. So how do you navigate your business through these troubled times? And are there any opportunities for actually thriving with the whole global economy in such a maelstrom?
Adjusting your course
Clearly, a great deal of empathy is called for during a time like this. If you recognize this and truly care about your customers, there is a real opportunity to engage with your audience online right now. But you need a plan, and you need to move ahead with it.
Former supreme court justice Oliver Wendell Holmes put it well. "I find the great thing in this world is not so much where we stand, as in what direction we are moving," he said. "We must sail sometimes with the wind and sometimes against it – but we must sail, and not drift, nor lie at anchor."
Right now, too many companies are drifting. They're simply too frightened to move. This is why it's so important for us to take stock of where we are and where we need to be going.
As you might imagine, people's online activity has skyrocketed with social distancing. We're seeing this with all of our clients at ContextWest. Our results are up significantly over the past month for search engine optimization (SEO), Google Ads and social media campaigns.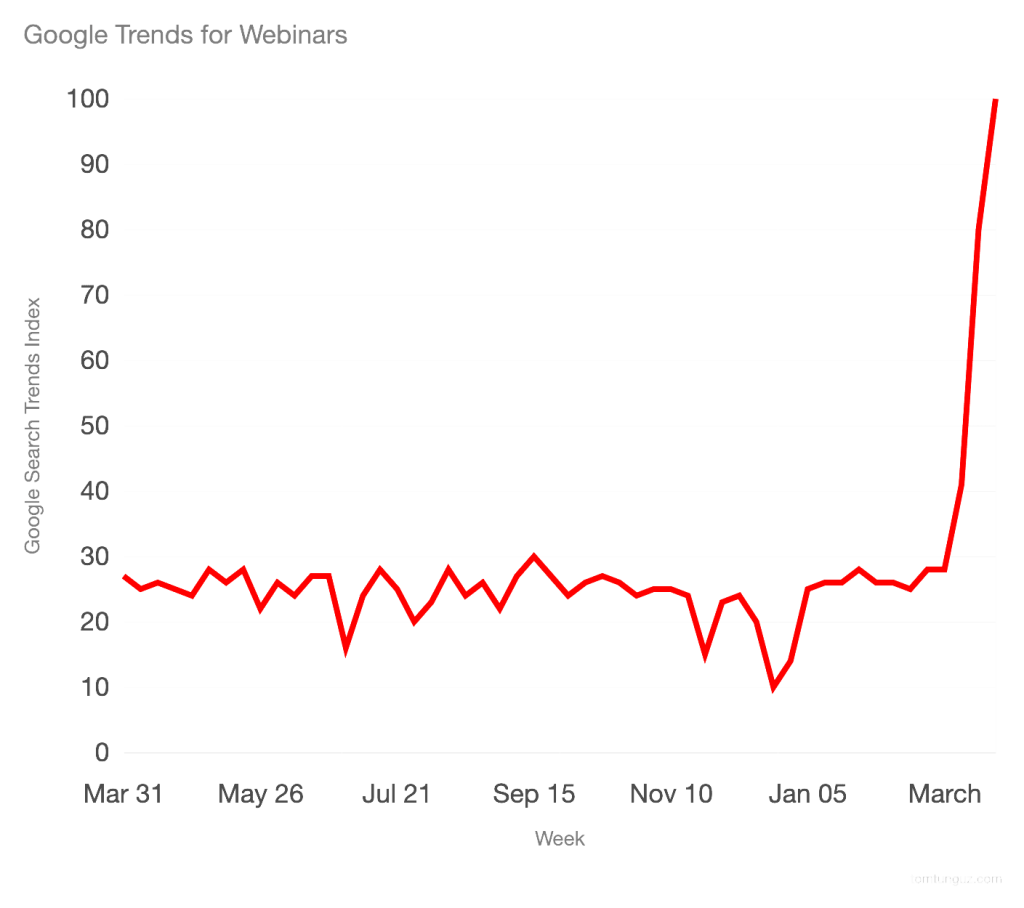 Early reports show Internet usage up by 30% across the U.S. and Europe. Use of video conferencing services like Zoom are up by more than 300%. Webinars are way up too. Just look at the massive surge in Google searches for them since the pandemic struck.
So, how are responsible marketers responding to these trends?
With the increase in Internet activity and online searches, many marketers are finding that this is a very good time to be out there with branded messaging. Webinars are just one of many tactics you should be looking at right now.
The first question you need to ask yourself is – can my business benefit from online promotions at the moment? It's surprising how often the answer is a resolute yes. Companies involved in things like packaged goods, collaboration tools, construction, deep cleaning, exercise equipment, deliveries, puzzles, video games and landscaping, are all doing extremely well at the moment.
If you believe your company's products or services are relevant now or will be again soon, this is an excellent time to be out there building awareness for your brand and creating goodwill in the market.
Obviously, different rules apply to different businesses. There's probably no need to promote your sit-down restaurant, but you may wish to drive interest in your take-out services and the lengths to which you're going to support your staff and keep people safe.
Serving up what people are searching for
Two of the best uses of your marketing budget right now are SEO and pay per click (PPC) campaigns with Google Ads or Bing Ads. With so many people searching for things online, they might as well come across what you're offering.
SEO or organic search is a long-term, content-based strategy that takes time to build up. With a solid investment in Google Ads, however, you could buy your way right to the top of Google Search this week. And the best part is – people won't hold it against you that you're advertising since you're just giving them what they are searching for.
Getting social during social distancing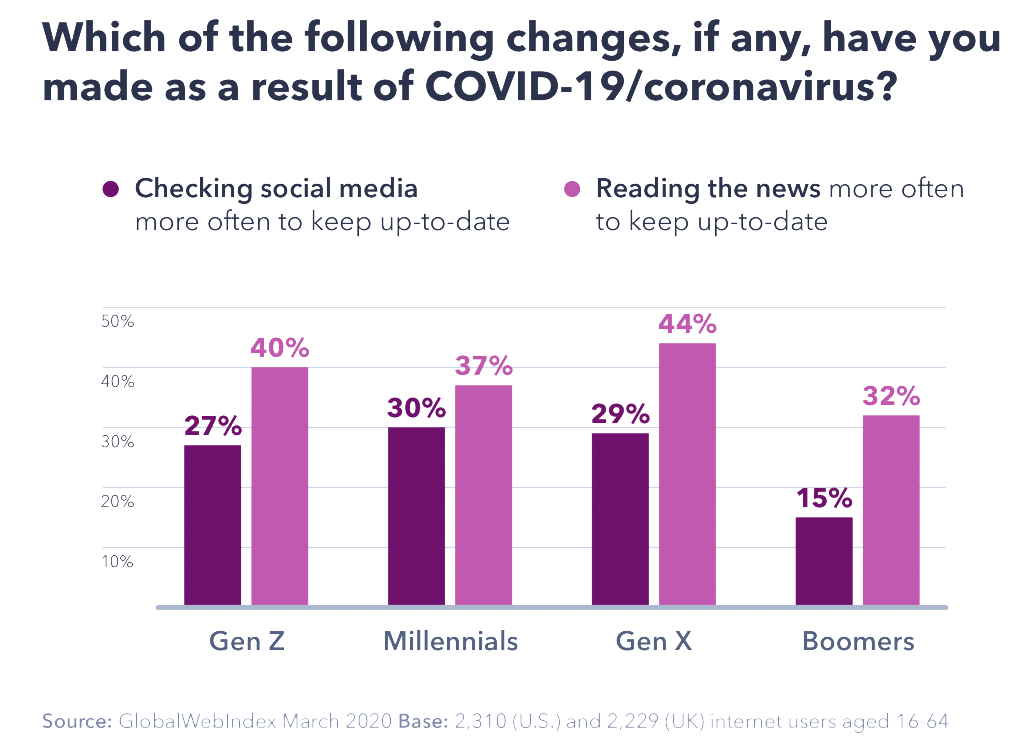 Take a look at how much more often people are checking social media right now and you'll recognize the opportunity. Just be careful to show due respect for what's happening out there. It's a time to be helpful advisor, not a pushy salesperson.
We suggest you avoid the already hackneyed phrase "we'll get through this together." Just be human and talk from the heart. This might mean recognizing the crisis in your social posts. Or just posting interesting video or blog content that will serve as a nice diversion for people.
Connecting with email
You may have noticed that your inbox is still flooded with companies vying for your interest. People are checking email even more now, so the timing is right. The challenge is having something to say. Having a provocative or playful subject line is more important than ever. Keeping your email brief with a very warm and friendly tone of voice is also key. Again, just be cognizant of the times and don't come across like an opportunist.
In all of your communications, be sure to be as relevant as you can. Context has never been more important in these trying times. Let your audience know why your widget or service is especially useful now for remote working, keeping people safe, the well-being of your lawn or whatever else.
The most important thing is to recognize that you understand what's going on out there and speak with integrity about how you want to help people. Whatever you do, do something to try to position your company for success – either right now or when things lighten up again.
Let Us know if you could use some advice on content marketing!