We've seen a giant shift toward more online marketing since Covid-19 first hit. The pandemic has changed the way people socialize, communicate and search for information. As a result, your business needs to rethink how you reach out to customers and drive sales.
Marketers have always said engaging new customers is just like dating. Now it's just like online dating. And if you're not focused on how to build relationships online or you don't have a customer journey mapped out with lots of digital goodies along the way, your business is no doubt hurting for prospective buyers right now.
Content marketing is more relevant now than ever because it's all about putting your company story in a context that will interest your target audience. Whether you're creating content to drive brand awareness or generate leads, your success will live and die by the quality of the material you produce.
Succeeding with content marketing is not something that just happens by accident. It's also not something to throw at your new marketing intern and expect great results.
Good content is hard work, but when done well it can fuel massive revenue growth for your business. Read on and we'll share why it works, how to get started, where to focus your message and the 11 best tactics for succeeding in content marketing this year.
What is the point?
Content without a strategy is just noise. That's why – before you commission your first blog or produce your first webinar – you need to define your goals and how you plan to achieve them. You can start by asking yourself some tough questions:
What is our vision and our purpose as an organization?
What is the one thing we want to be known for?
What are the main customer pain points we address?
What valuable insights can we share with our audience?
How can we talk about our offerings in an engaging way?
What topics can we cover that will resonate with our prospects?
Great content and interesting stories will grab your audience's attention and inspire people to respond and share. And once you establish your brand as a thought leader, your content can begin to spread throughout your industry and around the world.
Where do I start?
The most tried and true places to start with content marketing are blogs, social media and email. Think about what image you want to project. Are you hoping to be a provider of practical tips and information? Do you want to be a visionary who is always one step ahead of the rest? Or do you want to be the fun company that takes things less seriously?
It's important to release a steady stream of useful content that isn't self-promotional. Don't just produce one blog and call it good. Content is a long game of engaging your prospects over time. The goal is not to convert them at first sight. Think of your own experience. Multiple touch points and a variety of messages are often needed to win you over.
When you brainstorm content ideas, consider topics that are evergreen. Don't ignore content ideas that may only be tangentially relevant to what you do. If you're stumped for ideas, start asking people what they wish they knew more about in your industry. Be sure to keep up with the content your competitors are sharing. Sign up for their emails and follow them on Facebook and Instagram. You cannot beat them if you don't know how they are reaching out to your shared audience.
A good way to remember the key to content marketing is that it's all about how you SHARE:

How should I craft my message?
Most businesses create content that turns people off because it's far too salesy. So, how do you create content that's relevant and shareable? Having an objective and helpful tone is key. Think of your company as a magnanimous provider of useful information. You're just here to help! Also, keep in mind that your most powerful content marketing targets the intersection of three key topics:
Your prospects' interests. What are they looking for? What are their most pressing needs? What are they trying to solve?
Your company's strengths. Why are you the best choice to solve certain problems? What do you do at a knockout level? How do you do things differently?
Your competitors' weaknesses. What are your competitors notoriously bad at? Where do they cut corners? Why do their products actually cost more in the long run?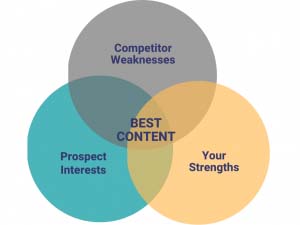 The 11 best content marketing tactics
Here is a quick overview of the best types of content marketing you can produce to get the word out about how great your business is. We will explore each of these in more detail in upcoming blogs.
1) Blog posts
Studies show businesses that produce blogs enjoy 126% more lead growth than their competitors. Create posts that will resonate with your audience but still allow you to call out what your company offers. Be sure to include desirable keywords to improve your SEO performance. It also helps to think of how your audience might do an online search on your topic and work that into your title for the piece.
2) Online ads
Whether you're producing display ads, search ads or social media ads, writing concise and playful copy will get people's attention and increase your click-throughs. Try to come up with a hook that relates to your audience's pain points and take them somewhere amazing.
3) Emails
People's inboxes may be overflowing these days, but relevant, drip email campaigns are still a great way to stay in touch with your buyers. Subject lines are critical for getting people to open your emails. Keep them short and fun (or at least intriguing). Emails should be short, easy to scan (with bullets if needed), visually appealing and actionable (with at least one strong call to action).
4) Social media
Social media content is great for brand awareness and driving people to your website. It pays to have a content calendar where you map out what you're going to talk about when. Try to find ways to get your audience to interact with you (think polls, quizzes and provocative topics) and keep things on a chatty, human level.
5) Videos
Videos can be time-consuming and costly to produce, but good ones are extremely valuable. A great video will generate buzz around your brand. You can make company overview, demo, case study or explainer videos just to name a few. The key is to make it fun, interesting and short. If you're creating a social media video ad, keep it under 30 seconds and be sure to include captions.
6) Infographics
Infographics are great for sharing on social media. They also do well on websites, emails or printed materials. People love infographics because they tell a story visually. Start by doing the research and writing the copy, then hand the project off to a designer who can find a clever way to visualize your information. Infographics should be on a single topic, but can have separate modules or chapters to them.
7) Case Studies
The best case studies (aka success stories) are about your customer's journey, not your company. Why? Because buyers want to know what someone else with similar challenges saw in you and how they benefited from working with you. Tell a story about real people succeeding in their quest to make it more relatable and interesting. Include lots of client quotes and data points so they tell the story for you.
8) White papers and eBooks
White papers and eBooks are essentially the same thing, but eBooks tend to be less scholarly and more conversational. Having website prospects sign up to access these thought leadership pieces is a great way to capture leads that are late in the buying cycle and likely familiar with your offerings.
9) Calculators
Calculators are another great lead-capture tool for late in the buying cycle. The best ones focus on things like return on investment (ROI), total cost of ownership (TCO), the extra revenue your products can generate or the savings they can yield.
10) Webinars
The best webinars are fun and informative, not glorified sales presentations. Think carefully about what your audience is interested in and what a catchy title might be for drawing a big crowd. Next, find expert speakers who will do well on camera. You may want just one presenter or you might prefer a panel discussion with lots of Q&A. The best time for webinars are Tuesdays or Thursday at 11 am. Be sure to do a lot of rehearsing, have speakers wear headsets and have technical support ready.
11) Podcasts
There are more than 144 million out there listening to podcasts. To capture a slice of that action, find an angle for an ongoing series that will appeal to your audience. Podcasts need to be engaging and thought-provoking, not sales oriented. Remember to tell interesting stories, bring in great guests and invest in good equipment.
What's my next move?
Need help developing an effective content-marketing strategy and building out a successful campaign? ContextWest offers affordable, results-driven content marketing services for any type of business. Get in touch with us for a free consultation.
Let us know if you could use some advice on content marketing!