Grow your revenue with performance-based digital marketing.
Our story is all about getting you results.
At ContextWest, we believe the best marketing strategy is to tell great stories. That's why – unlike most agencies – we lead with storytelling and back it up with stellar brand design and advanced digital technologies. Our focus with each new campaign is contextual marketing – getting  the right message to the right audience in the right place at the right time. It's a powerful approach that helps us achieve exceptional results.
The context to make your marketing come alive.
Did you know the same parts of the brain that light up when you experience things first-hand also light up when you read about them? This is why telling stories about things you're passionate about makes your audience share your excitement!
Technology may be transforming our lives in dramatic ways, but people's desire to consume great stories only continues to grow. At ContextWest, we help our clients address this desire by building compelling narratives into our websites, branding, email campaigns, videos, blogs, and even our search and online campaigns.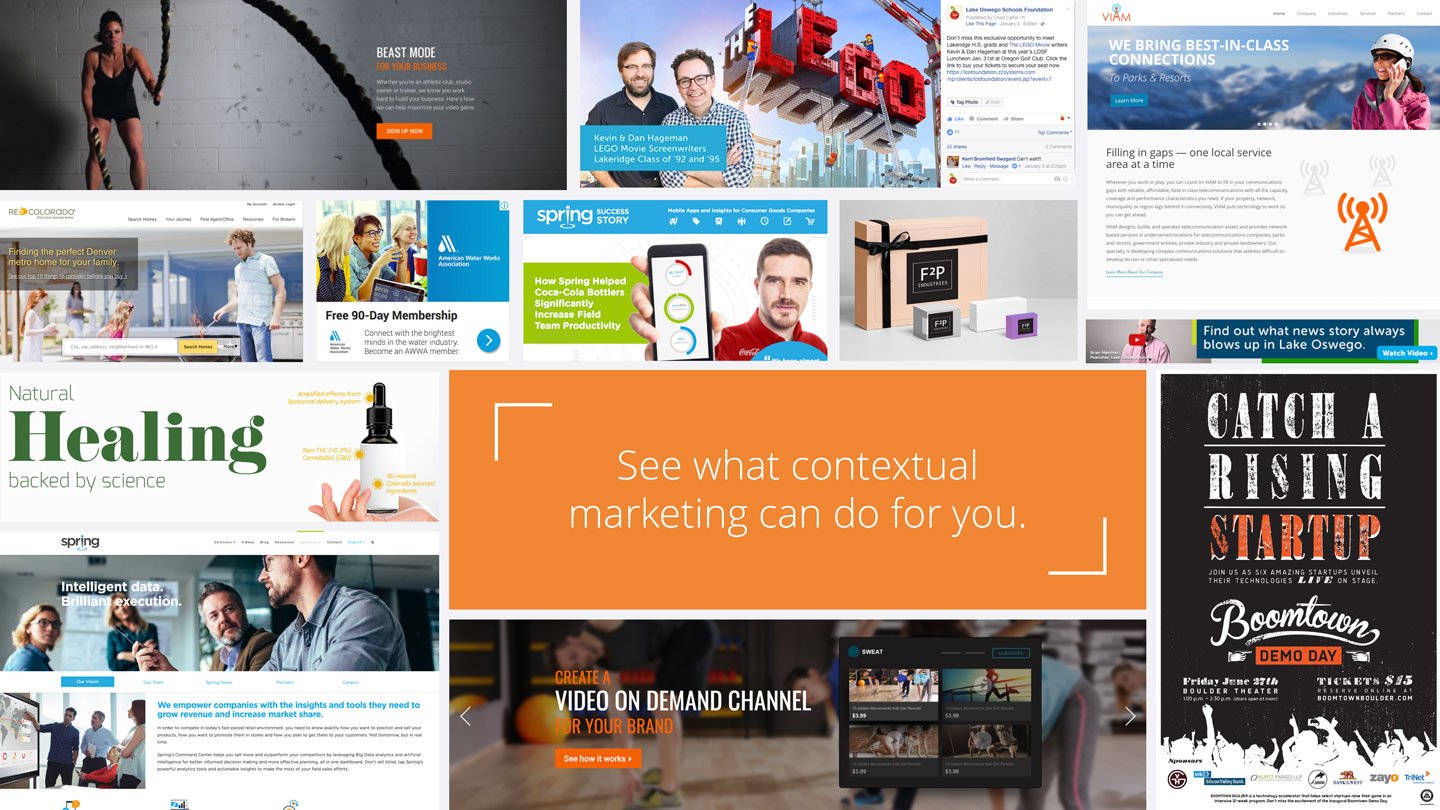 Telling compelling video stories.
Videos are a great way to share your value proposition, connect with your audience and drive online conversions. You can promote videos on websites, social media, YouTube channels, emails or presentations. You can also use them as online commercials. At ContextWest, we specialize in producing videos in multiple formats.
Animations
'Ipreo Qval Platform' (1:16)
Qval helps venture capitalists determine the value of pre-public companies. We brought this advanced product to life in a fun, entertaining video animation that makes prospective venture buyers feel like action heroes with a secret weapon.
Case Studies
'How Spring Helped Coca-Cola' (3:33)
We showcased Spring's mobile apps and HQ portals through the enthusiastic stories of Coca-Cola. Spring's advanced technology helps CPG companies deliver, sell and merchandise more effectively.
Inspiring Stories
'I Go to Nature' (3:04)
Colorado Caribou is an adventure blog about amazing outdoor experiences. We produced this video to showcase Amber (the founder) and how her unique personal history and love of nature have made her such a passionate writer and guide.
ContextWest spends as much time listening as providing strategy and ideas – a real rarity these days.

Director of Marketing & Outreach, University of Colorado at Boulder

ContextWest did a fantastic job with our website. Their strategic brand analysis was also extremely useful in helping us improve the way we communicate.

Vice President, Strategic Alliances, Woodwing

When I think of ContextWest, I think invaluable... life saver...couldn't do it without you!

Executive Director, Lake Oswego Schools Foundation

ContextWest built our website, and we were thrilled with their ability to understand our business, develop strong creative and implement a clearly defined strategy down to the finer details.

President, Viam Telecom

You guys need to slow down the marketing. We're winning too much business.

Senior Vice President, ORS Labs

I just found out that ContextWest is the talent behind the great video that keeps popping up on my Facebook page. Really nice work.

CEO, American Water Works Association